It's time for our Full Moon Releases. Enjoy!
Night's Honor by Thea Harrison
On the run from her former employer, Tess knows that she's vulnerable on her own amongst the Elder Races. That's why she decides to audition to become the human attendant of a powerful Vampyre of the Nightkind demesne. But while her position affords her the safety she seeks, her protector turns out to be more than she bargained for.

The right-hand man of the Nightkind King, Xavier del Torro is both terrifying and alluring. While his true nature frightens Tess, she can't ignore the appeal of his innate sense of integrity and self-restraint. Thrown into Xavier's world, Tess must quickly learn to navigate the dangers—both to her life and to her heart. But the biggest threat comes from her own past….
From Berkley released September 2nd
Just His Taste by Candice Gilmer

Avalynn Fay is not a typical Fairy Godmother. She wears leather body suits, rides motorcycles, and prefers bourbon to anything fru-fru. Probably why she is assigned new charge, Jason Gregorian—a PI who drinks bourbon and loves to cook barbecue.

Jason's a good guy. Generally decent. Even willing to pretend to be his ex-girlfriend Tessa's date for a wedding, so she won't be alone while her ex struts around with his latest squeeze on his arm.

Should be easy, right?

All Ava has to do is talk to him, feel him out a bit, and she'll know exactly how to get the wheels in gear. Except when she meets Jason, suddenly no one is good enough for him. Not even Tessa, his intended Happily Ever After.

It's enough to make a fairy godmother want a healthy shot of bourbon—right before she breaks all the rules.
Coming September 9th from Samhain Publishing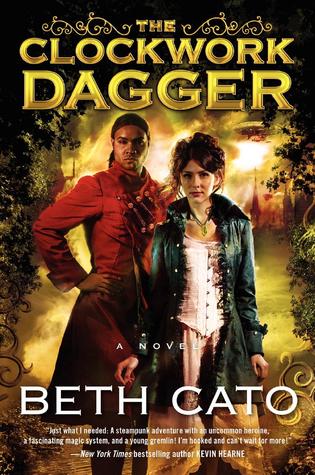 The Clockwork Dagger by Beth Cato

Orphaned as a child, Octavia Leander was doomed to grow up on the streets until Miss Percival saved her and taught her to become a medician. Gifted with incredible powers, the young healer is about to embark on her first mission, visiting suffering cities in the far reaches of the war-scarred realm. But the airship on which she is traveling is plagued by a series of strange and disturbing occurrences, including murder, and Octavia herself is threatened.

Suddenly, she is caught up in a flurry of intrigue: the dashingly attractive steward may be one of the infamous Clockwork Daggers—the Queen's spies and assassins—and her cabin-mate harbors disturbing secrets. But the danger is only beginning, for Octavia discovers that the deadly conspiracy aboard the airship may reach the crown itself.
Coming September 16th from HarperCollins Publishers
Siren's Song
(Gray Court Book 5) by Dana Marie Bell
Oberon is well and truly lost, with no memory of who he is, where he came from, or where he's going. One woman makes his palms sweat and his heart race, a woman with turquoise eyes and a beautiful voice. Instinct tells him she's the only one who can save him.

Cassie knows the truth—he is the High King, her truebond, the one man born to be hers and hers alone. Restoring his memory and keeping him out of the Black Court's clutches is her mission, though success means losing him. Yet to give the world back its High King, she will make that sacrifice.

As soon as Oberon's memory comes crashing back through his mind's closed door, he makes one vow. Though beset by enemies, chased and attacked, he will return to his rightful place with his Queen by his side.

Except when he makes good on his vow, all hell breaks loose. And when Cassie's life is threatened, the fae world will bow before the High King or pay the price in blood.
Coming September 16th from Samhain Publishing.