Before we get the ball rolling I'd like to just say, normally I wouldn't be writing a review of this book. I don't normally write reviews of books I didn't enjoy, but as this was the first book I read in 2015 I feel the need to comment on it. That said, the book may not have worked for me but I'm sure there are readers out there that would enjoy this style.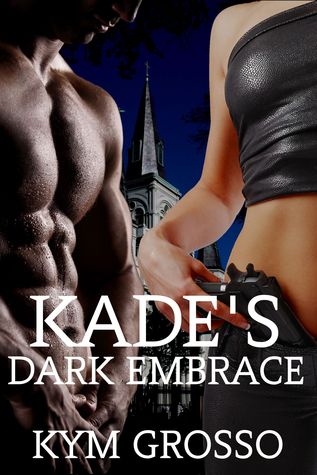 Kade's Dark Embrace
by Kym Grosso
After a series of girls are ritualistically murdered on the cold streets of Philadelphia, seasoned detective, Sydney Willows, is forced to work with sexy, alpha vampire, Kade Issacson. While working the case, Sydney finds herself inexplicably drawn to Kade, fighting the passion she feels towards him.

Kade, determined to solve the case and mete out justice, is captivated by the independent, fiery detective. As he attempts to protect her from a very real murderer, Kade grows concerned that the beautiful, but very human detective, could easily end up dead should she tangle with supernatural forces that are beyond her control.


The investigation leads them into a dark and dangerous world, deep in the heart of New Orleans, where together, they search for the perpetrators of the Voodoo killings. Sydney soon becomes the target of the killer and ends up fighting for her life and love in the Big Easy. Will she eventually give into the intoxicating desire she feels for Kade if she makes it out alive?
The Review
I picked this book up as a freebie and thought it would make a great first read for the year. It took me weeks to finish it and honestly I won't be reading the other books in the set. There were some really nice points to the book so I'm going with the tried and true pros and cons review style.
Pros
I loved the idea of the villain. Love love love the idea of this bad-ass VooDoo vampire out for revenge villain. I've never seen a magic wielding vampire before and the idea is awesome. I wish I had seen more of her. Side characters were well placed and plotted to a point. Through out the book I wanted to know more about the side characters, which are featured in other books by Kym Grosso.
Cons
I had little to no interest in the main couple mid way through the first half. I was skimming pages during most their interactions by this point. By the time I reached half way a lot of their personal interacts seemed like repeats. I love a good kick butt ask questions later leading lady. This type of heroine is one of my favorites, but Sydney was missing something. I get emotional conflict and all that are part of a good plot, but Sydney's conflicts really seemed out of character in a way that made me want to reach into the book and smack her in the back of the head. Kade, our leading vampire hero, is your classic sexy as all get out leading man. He read flat. Kade is over baring and while not handling the issues between him and Sydney is part of the story it really did make the story less enjoyable for me.
To be honest I was more interested in the relationship between Sydney and Tristan, a side character who is an alpha werewolf in Philly. I get that they were just "friends" but I really liked the way she turned to him even if it was just for sex and I was disappointed when they didn't have any more romance development.
While I loved the villain I was upset that I didn't see more of the crime case the couple were working on. I think the story would have been better if it focused a little less on the possessive nature of the hero and independent confusion of the heroine and more on the crime.
If you like the classic alpha vampire and the confused bad-ass chick you might enjoy Kade's Dark Embrace. Not every book is going to be right for every reader. It did get lots of great reviews from other folks and a number of review sites really liked it.