Okay, so it's the New Moon Releases, but you can still enjoy some great new releases.
In the Air Tonight by Lori Handeland
Four centuries ago, in a small Scottish village, three baby girls escaped the wrath of a witch hunter. Today, one young woman will learn about her secret history, her heart's destiny, and the sisters she never knew she had...
With her blue-black hair and dark eyes, Raye Larsen has never fit in with the Scandinavian community of New Bergin, Wisconsin. Being adopted is part of the reason she feels like an outsider, but what really sets Raye apart is her ability to see dead people.
Everywhere.
She's learned to keep her visions to herself...until she stumbles onto the ghost of a murder victim who needs Raye's help. Enter Bobby Doucet, a distractingly handsome homicide detective who has been tracking a killer all the way from New Orleans. Could this be the break in his case he's been looking for all along? Meanwhile, the deeper Raye gets involved with the case-and with Bobby-the closer she comes to unlocking the mystery of her own origins. What she discovers about herself could destroy everything she knows...and everyone she loves. Is finding the truth worth the risk?
Filled with dark magic, dazzling romance, and dire suspense,
In the Air Tonight
is the first book in a thrilling new series by
New York Times
bestselling author Lori Handeland.
Released June 2nd by St. Martin's Paperbacks
Soul Scorched by Donna Grant
Darcy was floating on a cloud of pure passion. Everywhere he touched, Warrick was leaving a mark on her, forever changing her. She could feel it through her skin and muscle, through bone and into her soul. It was as if he was changing her. And she welcomed it…Her power is a blessing.

Born on the Isle of Skye, Darcy is a beautiful woman of many gifts. Fortune-telling is her forte, and she remains the only Druid who could unlock the secrets--and desires--of a Dragon King. His name is Warrick. And now that Darcy's seen into his dragon heart, nothing will ever be the same…

His passion is a curse.

Warrick never intended to put Darcy in harm's way. But ever since she revealed a shocking truth, Darcy has been hunted by the Dark Fae, who want to use her powers for their own evil purposes. Now it's up to Warrick to do whatever it takes to keep the woman who sets his soul on fire safe. But protecting Darcy means putting himself--and his entire race--in jeopardy. Is his desperate longing for one woman worth the risk of losing everything…for eternity? Dive into Soul Scorched, the sizzling next novel in the Dark Kings series from New York Times bestselling author Donna Grant.
Coming June 30th from St. Martin's Paperbacks
Dragon's Demon by Marie Harte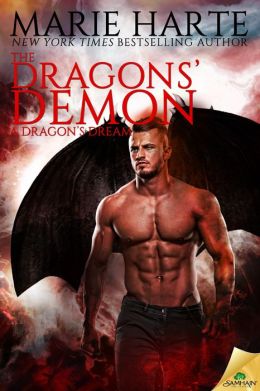 A prank gone wrong throws three unlikely partners together: A demon. A dragon. And an egg.
In the ordinary world, forces are at work which keep the balance of the universe in order. Enter Eve Sinclair, a higher demon with a mission—to sway those souls on the brink of Decision, to push them toward heaven or toward hell, as they are meant to go.
After a prank played by her brothers, Eve finds herself holding the proverbial bag, accused of stealing a precious dragon egg. Worse, it's a royal egg, as she learns from Ranton, the furious commander of the dragon legion.
Not a creature to have on one's bad side, Ranton shifts between his human and dragon forms, keeping Eve off-balance and off her game. Normally a master at manipulating males, Eve finds that Ranton is more than a match for her…as is his brother, the new dragon king. In their arms, she's mere putty.
And soon they're not only molding her desires, but her heart.
Warning, this title contains the following: explicit sex, graphic language, ménage a troi, and steamy dragon love
Released June 9th by Samhain Publishing, Ltd.
That's it or today. It's a short list, but a good one all the same. With plenty more new releases out there I can't wait to dive into reading again. If you know of a great release post a link in the comments and let me know about it!
Peace and Love!