Enjoy these treats!
Reckoning
by S.J. Harper
Special Agent Emma Monroe has a secret. She's a Fallen Siren, cursed by the gods and banished to Earth for her failure to prevent the kidnapping of Persephone. As an FBI agent she saves the lives of others believing redemption could be one rescue away.
Her partner Zack is a werewolf and former Black Ops sniper who once carried out a string of questionable assignments. Now he's determined to atone for his past. Ironically, there's a portion of his past Zack doesn't remember—an affair with Emma. Giving into their attraction for one another almost led to their undoing. Now it's back to business as usual.
While trying to unravel the mystery behind a series of kidnappings in Southern California, Emma and Zack become entangled with political tensions in the vampire and Were worlds. Not to mention the struggles they face in their relationship with one another. With so much uncertainty, they come to realize the only thing they can really count on is one another…or can they?
Releases Oct 7th and sold by the Penguin Group
Unbinding
by Eileen Wilks
Book 11 in the World of Lupi series.
In the newest Novel of the Lupi, the human and elven worlds are both about to come under attack…
After questing through the sidhe realms with her ex-hellhound lover, Nathan, Kai Tallman Michalski has finally returned home. But she knows Nathan will eventually be called back to serve his queen—and Kai will have to decide whether to enter her majesty's service as well. Sure, the job comes with great bennies, but there's one big downside: she would have to swear absolute fealty to the Queen of Winter.
Published by Berkly and released Oct 7th.
'Til Dragons Do Us Part
by Lorenda Christensen
Savannah Cavenaugh became a top art thief thanks to a secret ability—a dragonmorph, she can literally fly away from the scene of the crime. Next up: stealing a priceless painting out from under the snout of Lord Relobu, North America's fearsome dragon ruler. True, she's never had to work in the midst of Earth's most polarizing nuptials before. Keeping her identity hidden will demand she get
creative
, to say the least.
Cameron Shaw has one last chance to prove himself. As Lord Relobu's interim security head, he'll ensure the world's first interspecies wedding happens without a hitch. That means keeping an
extra
close eye on the wedding planner's pretty young assistant. She's adorable, but something's not quite right.
Fumbling her way through bouquets and linens turns out to be the least of Savannah's problems. Crushing on Relobu's hottest human henchman was
not
part of the plan, and neither was revealing her—ahem—ferocious side. But when her archrival shows up to nab the very same painting she's after, all bets are off…
Coming Oct 27th from Carina Press.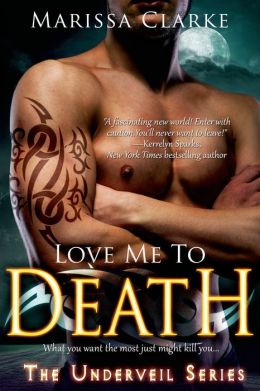 Love Me To Death
by Marissa Clarke
Medical research scientist Elena Arcos has always lived her life under the radar. When she is shot in a convenience store robbery, she finds herself rocketed into supernatural insanity courtesy of a sexy immortal law enforcer. He's convinced she's some kind of freaky half-vampire thing and that her deceased dad was the real deal: a blood sucking monster. Yeah, right.
As a Slayer, an elite law enforcer descended from Azrael himself, Nikolai Itzov's orders from the Underveil General are clear: Kill Elena Arcos or die. The only thing holding him back from that directive is the overwhelming urge to protect her. Too bad she's also the offspring of his father's murderer. Kissing Elena, let alone being with her body and soul, can never happen.
Nikolai and Elena find themselves in a life and death battle to stop a plot designed to lift the Underveil and enslave humans. With her analytical mind and his centuries of training, they might be able to foil the plot with their lives, and maybe even with their hearts intact. But in order to succeed, he must help her become the very thing he hates the most: an Undead.
Coming Oct 28th from Entangled Publishing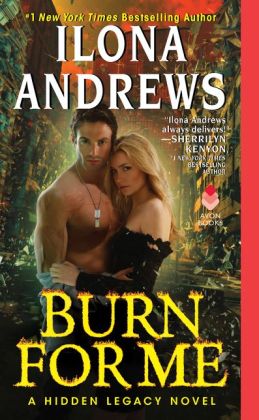 Burn for Me
by Ilona Andrews
#1 New York Times bestselling author Ilona Andrews launches a brand-new Hidden Legacy series, in which one woman must place her trust in a seductive, dangerous man who sets off an even more dangerous desire . . .
Nevada Baylor is faced with the most challenging case of her detective career—a suicide mission to bring in a suspect in a volatile situation. Nevada isn't sure she has the chops. Her quarry is a Prime, the highest rank of magic user, who can set anyone and anything on fire.
Then she's kidnapped by Connor "Mad" Rogan—a darkly tempting billionaire with equally devastating powers. Torn between wanting to run and wanting to surrender to their overwhelming attraction, Nevada must join forces with Rogan to stay alive.
Rogan's after the same target, so he needs Nevada. But she's getting under his skin, making him care about someone other than himself for a change. And, as Rogan has learned, love can be as perilous as death, especially in the magic world.
From HarperCollins Publishers and coming Oct 28th.





Happy Reading!